Anchoring

The method and quality of the anchoring on a floating dock has a direct impact on its durability, longevity, and maintenance requirements. For the most part, the anchoring for a floating dock is intended to keep the dock in place and is not for stabilization purposes. Factors used to determine which anchoring method to use include the depth of the water, the distance the dock resides from the shore, the potential amount and frequency of water level fluctuations, the amount of wind and wave loads on the dock, the dock configuration, and local regulatory restrictions, among others. Because the anchoring points on a dock are subjected to exceptionally high stresses, we give our docks extra reinforcement at all anchoring points and use intelligent design to minimize any stresses that result from the constant, multi-dimensional forces exerted on floating docks.
As it relates, we highly recommend you take the advice of your local Wahoo Docks dealer when deciding on the anchoring method to use on your dock. All of our dealers have extensive training and experience with anchoring methods, and the most attractive or convenient option may not be the best solution if your conditions dictate otherwise. Anchoring is perhaps the area most susceptible to problems, so ensure you've consulted heavily with your Wahoo Dealer before making a decision.
Although we have used a wide variety of anchoring methods over the years, the vast majority of all docks are anchored using one or a combination of the methods described below.
Cable Anchoring
The most common, cost-effective, simple, and often the best method for anchoring a floating dock is with Cable Anchoring. This flexible method is commonly used because it is economical and suitable for situations that can be challenging for other anchoring methods, such as in areas where water fluctuations are frequent and severe or where water depths are extreme. It can also be used on docks that need to chase the water during seasonal fluctuations. There are four general forms of cable anchoring, and each offers a unique set of advantages based on different needs.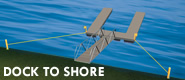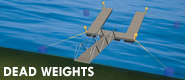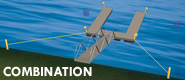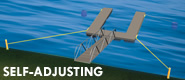 ---
Anchoring Method Comparison
Pole Anchoring
Pile Anchoring
Stiff Arm Anchoring
Cable Anchoring
Dock to Shore
Dead Weights
Combination
Self-Adjusting
Depth
15'
20+

Dependent on location

Unlimited
Unlimited
Unlimited
Unlimited
Unlimited
Fluctuation
Unlimited
15'+

Dependent on location

Variable

Dependent on stiff arm length

Unlimited
Unlimited
Unlimited
Unlimited
Action
Heavy
Moderate
Moderate
Moderate
Moderate
Moderate
Moderate
Cost
Moderate
Moderate to High
Moderate
Low

High if not aligned correctly

Moderate
Moderate
Moderate
Maintenance
Low
None
None
Low
High
High
Moderate